Legendary car dealer HR Owen visited us last year to expand their ever growing new service.
HR Owen is Britain's leading luxury car dealer and one of the worlds largest dealer for Rolls Royce, Bentley, Lamborghini and Bugatti brands. The company has 14 franchises and 17 after sales services. In 2015 the company was named the best dealership in the world by Ferrari.
HR Owen Rolls Royce was opened in 1932 by Harold Owen on Berkeley Street. Harold opened the company after leaving Jack Barclay, Harold remained the owner until his death in 1940 due to complications from an injury sustained during WW2.

Over the years HR Owen have acquired many dealerships and expanded outside of London. Eventually they purchased Jack Barclay and became one of the largest Bentley dealers in the process.
In late 2015 noticing a gap in the market HR Owen unveiled their VIP services. This service caters for those who want to change their vehicle at the weekends or for special occasions and events. As well as visitors to the UK who do not want to import their vehicles for the short period they will be in the country. This works alongside more conventional car hire needs such as airport transfers, weddings and corporate requirements. HR Owen's vehicles are the height of luxury with less than 6000 miles on them before upgrading them.
The fleet includes Rolls Royce, Bentley, Lamborghini, Range Rovers and V-classes. We will be joining their custom vehicle collection which includes Urban Range Rovers, and Yiannimize wrapped super cars and now a Monaco by Stanford Mercedes Sprinter.
The journey to a Luxury Minibus
Due to the bespoke nature of our Monaco vehicles it is important that our clients experience the Monaco before finalising their specification. HR Owen travelled in the luxury minibus for a couple of weeks. This gave them the opportunity to design their Monaco to suit their clients. Alongside many corporate clients HR Owen work with they also work with many musicians and sport stars and the Monaco needed to appeal to both clientele.
Head of HR Owen VIP services Abbass Zadeh had two special requests , an extra long step for entry to the vehicle and a LED mood lighting panel as seen in comedian Kevin harts sprinter. We always aim to meet our customers requests and developed new designs to meet these special requests.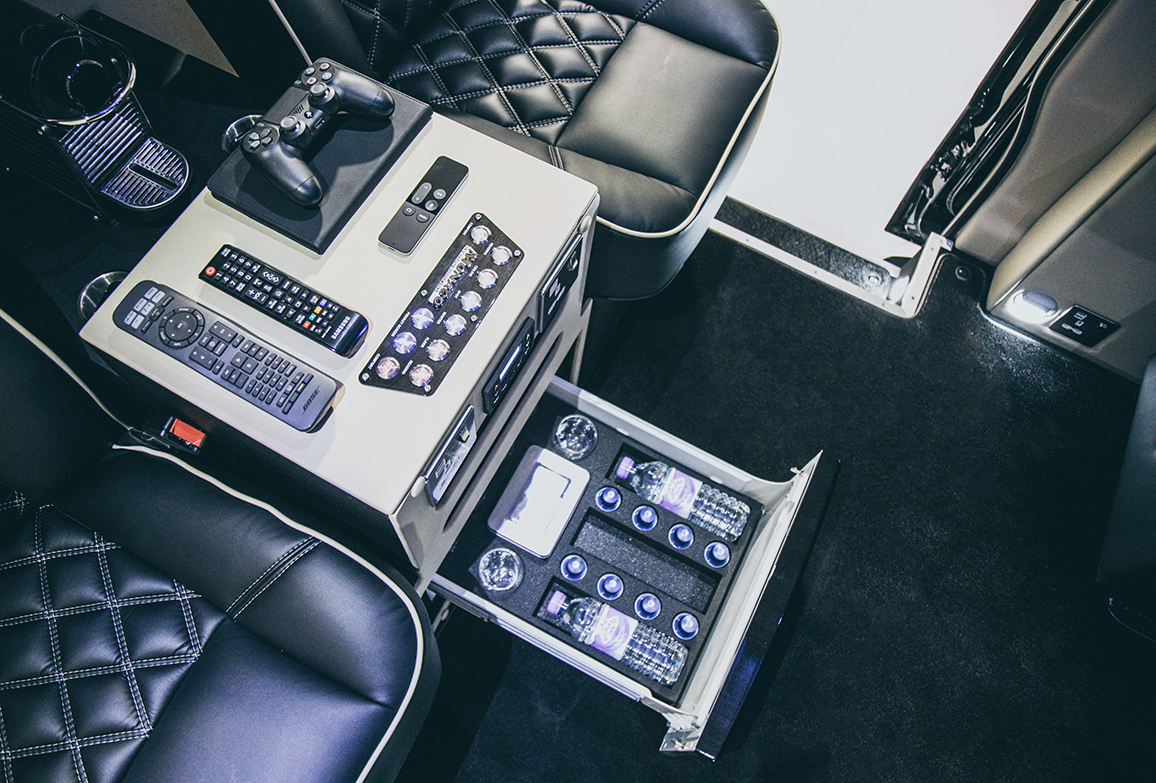 We designed a sleek long electric step for entry via the side loading doors, with LED spot lights for easy entry. A large central LED lighting system was designed especially for HR Owens Monaco, the lighting system features a number of programmed lighting sequences as well options to create custom lighting sequences all controlled by remote control or in board iPad .
Vehicle specification for Monaco Luxury minibus
Monaco control pads
2 42" Smart TV's
Custom led mood lighting with changeable light settings
Glass holders
2 chiller drawers
6 reclining and heated VIP Monaco seats
Apple TV
Bose surround sound
Playstation 4
Nespresso coffee machine
Electric blinds
Custom side steps
Wifi
In board iPad
Sockets and USB points
Personal reading and comfort lights
Cab divider
Storage compartments
Coat hooks
Ice bucket